Mudd's a pimp. Plain and simple. He's carting these women around to cash in on them. He's a jerk.
On his way to deliver the ladies to their prospective husbands, Mudd gets into a bit of space danger and the Enterprise rescues him. The rescue cost the Enterprise a great deal: their (di)lithium crystal circuits are blown.
Detouring to Rigel XII, to benefit from its lithium mines, the crew of the Enterprise gets a chance to learn more about Mudd and his scheme, and to be enchanted by his lovely companions.
Kirk wants to prosecute the creep.
The women want to dump the husbands they were going to marry and go with the miners instead.
Mudd wants to keep the secret of their beauty a secret.
When the Enterprise arrives at Rigel XII, the lonely miners are pretty excited to meet the women that want to marry them.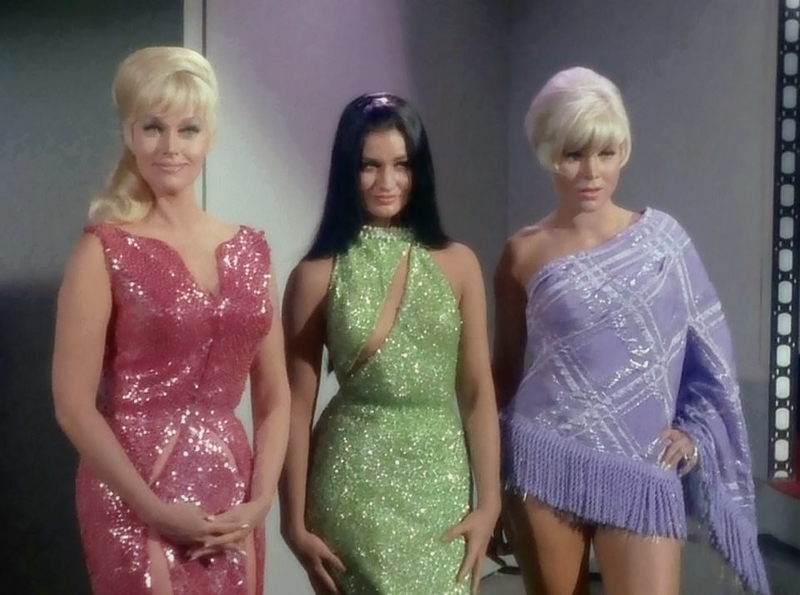 For some reason.
But once the miners start marrying the beauties, things change. They start to lose their beauty. (Or, in Magda's case, her hair gets messed up!) Turns out, Mudd had been giving the ladies a special Venus pill that helped that maintain their beauty.
The head miner was pretty ticked and wanted a refund. The woman he was set to marry hollers at him about how all men are the same and he should want to marry her for more than her beauty.
So she grabs another pill and returns to her pretty state.
But she didn't take a real Venus pill. Kirk reveals that he switched it out with a false one, a placebo. Where does her physical beauty come from? Her self-confidence.
Groan
I know this is a beloved episode. I couldn't stand it.
This was actually the first time I saw it, this one being banned when I was a kid. ( Banned by my father for, what I assume, equal parts moral objection and personal annoyance at lighthearted stuff on Star Trek. We skipped Tribbles for the latter reason.)
I noticed some holes.

Didn't the miners wonder why these three gorgeous women were having trouble finding husbands? I know this a take-off on the old West trope of delivering pretty wives from the East and the trip not going exactly as planned. So there is a bit of logical leniency given to an update of such an old theme. But not enough leniency can be given for this to work satisfactorily for me.
When the Venus pill wears off, their hair and make-up get messed up? This is just the product of restrictive budgets on a new TV show with a shaky audience base and a bizarre premise. I get that. Still. I'm watching this show saying, "Can't they just borrow somebody's make-up?"
The following is less a plot hole thing and more a time vortex thing. Three-time Trek actor Gene Dynarski appears have simply changed the color of his facial hair to convince audiences that he ages normally. I'm not buying it. He's on the Venus pill.
"Oh! The sound of male ego! You travel halfway across the galaxy, and it's still the same song."
Let's get to this whole "your confidence makes you beautiful" thing.
There's an obvious problem here. Eve demands to be valued for more than her looks. Then, when forced to take the pill, she's pretty again. Only the prettiness is sourced from her own self-appointed value. The problem is that even her inner confidence seems to think that her only value is in her looks!
The placebo works only because her confidence is high. So I'm thinking if she has a lot of confidence and takes the pill, she should look the same, only feel good about herself. Instead her looks change, suddenly interesting the miner Childress.
I know there's a thing about your external beauty reflecting, or hosting, your inner. I do not think that's what's going on here. Here's the effects of Eve taking the pill:
Childress likes her again
Mudd's sale is a success
Eve doesn't have to figure out the tricky combination of being self-confident and ugly.
"I will love myself for who am I. And…oh! I'm pretty again! Neat!"
Feels like a cop-out to me. Her self-confidence was never tested. And Childress' interest in her was never proven to be anything beyond lust. He had about three minutes with the ugly Eve, got yelled at, and then got to marry the pretty version.
"I read once that a commander has to act like a paragon of virtue. I never met a paragon."
It comes down to image. Eve was unsatisfied with Childress' image of her. So she rightfully asserted herself. But then her own image of herself was a bit wonky too, since it became realized in exactly the same form as her lusty miner husband-to-be's.
Why bother announcing a new positive self-image if you're just going to conform to what somebody else wants you to be?
Her self-image was still coming from men. That's the problem with self-image. It can never be entirely sourced in you. You want to be beautiful just for you, not for anyone else. Yet the image of what you want to be comes from somewhere. It comes from someplace other than your own head.
So be careful where your image comes from.
"Men will always be men. No matter where they are."
I used to daydream as a kid. Believe it or not this grown man writing about Star Trek and Doctor Who used to daydream. I would pretend to be Green Lantern when I was really little; Fred Astaire when I was even littler. And when I was a teenager, I pretended to be Pete Townshend.
I would swing my arms (still do sometimes), shout out angry young man songs (still do that too), and threaten to smash the first guitar I ever owned (providing, of course, that a second guitar was already in my possession).
I felt silly doing this, so I tried to do my own rock thing. I still swung my arms around and longed for a chance to smash a guitar. But these actions were now simply homages, not shameless copying.
After all, I was my own person.
Even in trying to distance myself from copping another's personality, I was still being influenced – and strongly – by something from not inside myself. Even if I had dropped the smashing guitars and windmilling bit and just stuck to playing rock and roll, I still would have used A-chords and I still would have played them upon a piece of wood with long thin bands of metal affixed to it. I couldn't possibly just start from scratch and really be my own person. Rock and roll is only complex enough to handle four or five different personality types. They're all just riffs on the same few archetypes.
I digress…
"Being a rock star is a bit different from having self-confidence," you say.
"Yeah, but only a bit," I sneer. (My testy rock and roll persona seems to have reemerged…)
But truly, the differences between having self-confidence and daydreaming about being a rock star are not very great in my mind. Both admit dissatisfaction with your present self and both make a goal of becoming a version of yourself that's based on external (ie, not from your own mind) appearances and attitudes.
In other words, you're getting your you-ness from somewhere.
So.
Be careful where your image comes from.
***